«
Richard Shiro/Associated Press
FRX: 13.3
From a pass-rushing perspective, Shaq Lawson might be the best pressure player in the draft class. While Joey Bosa is a better all-around base end, Lawson possesses the body control, speed and bend that translates to NFL success.
Backing up Vic Beasley, who was drafted eighth overall himself last draft class, Lawson only started for one season for Clemson. In that year, though, he was able to earn consensus All-American honors while posting 24.5 tackles for losses and 12.5 sacks, assisting the Tigers to their national championship appearance.
There is a health concern with Lawson, as his shoulder was flagged during the combine, per Albert Breer of NFL Network. With that being said, Adrian Clayborn was drafted with the 20th overall pick in 2011 despite his own long-term shoulder issue stemming from Erb's palsy.
That 2011 draft class had pass-rushers such as Von Miller, Aldon Smith, J.J. Watt, Robert Quinn, Cameron Jordan, Justin Houston and Ryan Kerrigan. Any of those edge defenders would be the top player at their position in the 2016 talent pool. In a class dry of sack artists, it's difficult to see teams passing on Lawson.
« »
Sheldon Rankins, DL, Louisville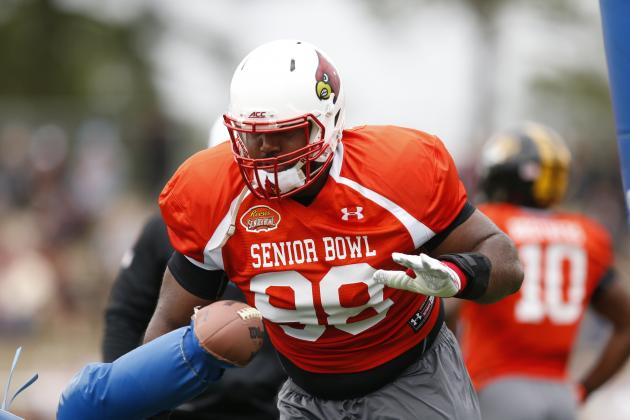 Brynn Anderson/Associated Press
FRX: 13.8
In just about every mock draft, the top two interior defensive linemen to come off the board are Oregon's DeForest Buckner and Louisville's Sheldon Rankins. Even then, Buckner may be looked at as an edge defender in 4-3 defenses as full-time 5-technique defensive ends are rare in today's NFL.
Rankins can fit any system. He does well against the run and is an underrated two-gap defender, a role he played for the Cardinals. While he's considered best as a 3-technique defensive tackle, he still fits in a 3-4 defense as an end.
The reason you can expect Rankins to rise is his ability to penetrate into backfields. Because he two-gapped at times for Louisville, this attribute was masked for stretches, but his second-step explosion is comparable to Kawann Short's, possibly the most talented defensive lineman in last year's Super Bowl.
In a class lacking explosive under tackles because of the off-field concerns of Mississippi's Robert Nkemdiche, it's not out of the question that Rankins sneaks comfortably into the top 10 by the end of April.
« »
Taylor Decker, OT, Ohio State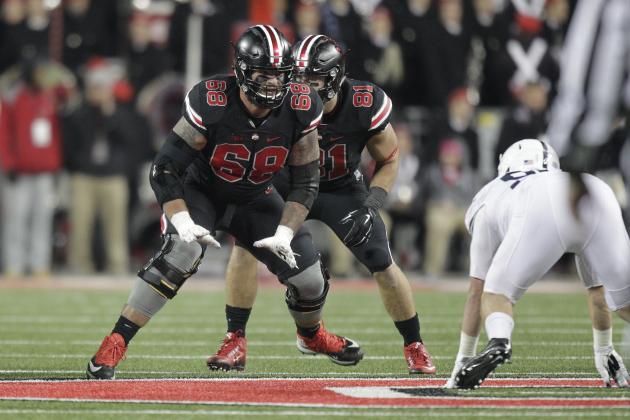 Jay LaPrete/Associated Press
FRX: 26.5
Laremy Tunsil may be the first overall pick, but there's another offensive tackle who is ready to start on Day 1. Taylor Decker has been a key piece to Ohio State's offensive line since his sophomore season, when he was a right tackle going up against the likes of Khalil Mack. Despite a limited upside as a left tackle, he's still well worth a first-round pick.
Standing at 6'6", he's a length-and-strength tackle. For the most part, those bookends have a higher success rate than tackle prospects who are labeled as athletic projects, such as Luke Joeckel was. Ronnie Stanley and Jason Spriggs may be trendy names in this draft class, but they have more in common with a perceived bust in Joeckel than a functional tackle such as Andrew Whitworth.
Decker's talent and track record should afford him the shot to compete as a left tackle for a needy team. If he doesn't pan out there, based off of his skill set, there's a good chance he becomes a premier right tackle in the league. In a league in which teams are sending athletic pass-rushers off the edge on both sides of the line, he's worth more than a late first-round selection.
« »
William Jackson III, CB, Houston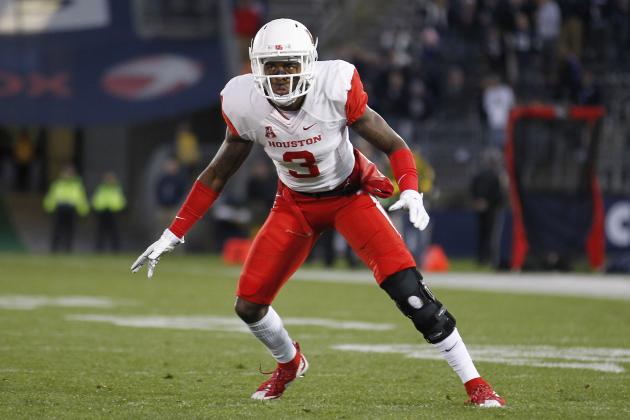 Stew Milne/Associated Press
FRX: 29.7
The Seattle Seahawks popularized one of the biggest trends in this era of NFL football: tall cornerbacks. John Schneider is the Seahawks general manager and learned under Ted Thompson, who learned under Ron Wolf, who learned under Al Davis. Chances are, if your franchise's general manager has rubbed elbows with any of those individuals, the idea of your squad bringing in a cornerback shorter than 5'11" is a stretch.
Two of the top five cornerbacks in this class, Vernon Hargreaves III of Florida and Mackensie Alexander of Clemson, fall below that threshold. Jalen Ramsey, Florida State's cornerback, appears to be a top-five lock, possibly even the first overall pick. Then there's William Jackson III of Houston and Eli Apple of Ohio State.
Apple declared as a sophomore but is a raw athlete. Jackson is ready to start in Week 1, and with a 4.37-second 40-yard dash, he also has long-term upside. In a league that needs more cornerbacks to cover three- and four-wide sets, Jackson is the second-best option for teams looking for an immediate 6'0" starter.
« »
Chris Jones, DL, Mississippi State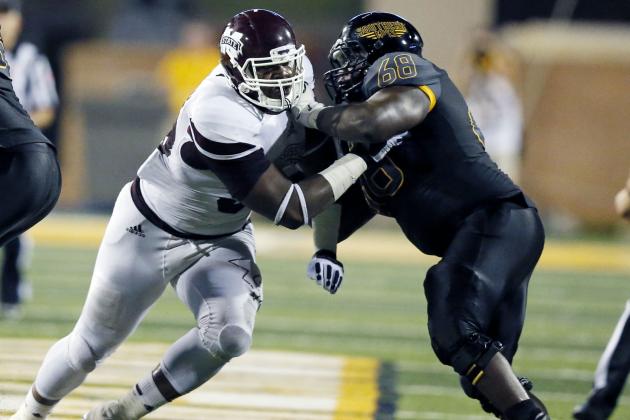 Rogelio V. Solis/Associated Press
FRX: 42.3
There are two common themes to this draft class. First, the defensive tackle talent is deep. Second, the overall class is fairly thin at the top. Somehow, a narrative has been pushed by some, including NFL Network's Mike Mayock during the combine, that franchises should skip the defensive tackle position early on, as they might have a shot to catch a slipping player in later rounds.
In the NFL, you shouldn't pass talent. If the best player on the board is a defensive tackle, and your team needs a defensive tackle, you should take that defensive tackle. It's a fairly simple concept.
Chris Jones of Mississippi State is a player everyone should keep tabs on as a potential riser in the final month of the draft cycle. Jones was arguably the biggest recruit in the history of the Bulldogs' program. His first year on campus earned him Freshman All-American honors, but a sophomore slump kept him from being in the front of this draft class heading into the 2015 regular season.
Jones rebounded as a junior, and his 6'6", 310-pound frame makes him a top priority for teams in need of a 5-technique. After DeForest Buckner, who is projected to be a top-10 pick, potentially coming off the board as high as third overall to the San Diego Chargers, Jones is the next best option in the class at the position.
« »
Le'Raven Clark, OT, Texas Tech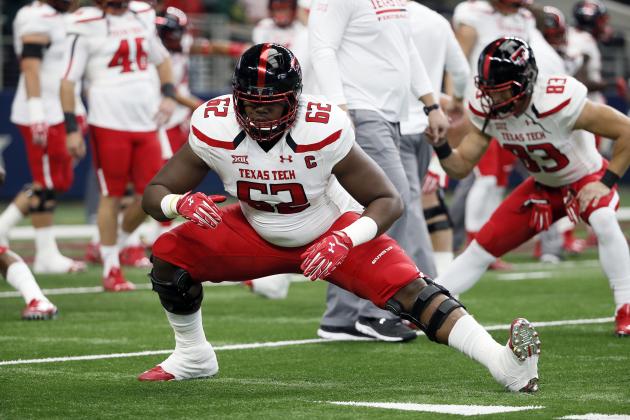 Tony Gutierrez/Associated Press
FRX: 63.6
The jump from college to NFL offensive linemen is only second to college and NFL quarterbacks, in terms of refined skill at individual position. Due to the spread nature of lower levels of football, basically every bookend needs technical help once they become professionals.
If you're looking at bookends by pure potential, Le'Raven Clark is an elite prospect. The problem is, he isn't close to reaching his ceiling. As a freshman, he earned Freshman All-American honors, but he hasn't become more consistent in the three years since.
Texas Tech's Air Raid Offense hurt Clark, as it's about as far from an NFL system as one could imagine. His 6'5" frame with 36" arms will interest franchises who need a long-term starter at either left or right tackle. His anchor is solid when his inconsistent feet are correctly aligned, so there's hope for the length and strength player.
With teams like the Seattle Seahawks, who have question marks across the offensive line and tend to bring in projects, drafting at the end of the first round, it's not possible that Clark will last until the last second round.
« »
Javon Hargrave, DL, South Carolina State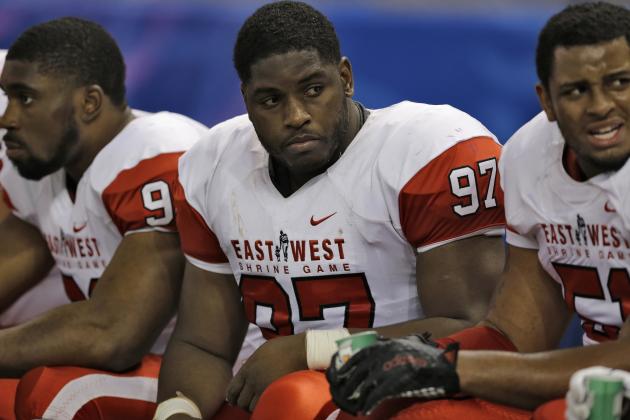 Chris O'Meara/Associated Press
FRX: 98.2
You may have never heard of South Carolina State, but you'll hear about one of their products, Javon Hargrave, during the draft weekend. According to Mock Draftable, Hargrave is in the 95th percentile in the vertical jump and the 88th percentile in the 40-yard dash for defensive tackle prospects.
At South Carolina State, he dominated his FCS competition, even flashing against the likes of Clemson in the few opportunities he had against FBS programs. He participated at both the East-West Shrine game and the Senior Bowl, where he thrived, and posted great numbers at the combine.
Other than an imposed tax placed on him for where he played college football, there should be no reason why Hargrave isn't a first-round pick. If he does last until the middle rounds, he'll be the next Geno Atkins, Mike Daniels or Jurrell Casey. It's hard to fathom that the NFL will make the same mistake over and over by allowing premier, though undersized, under tackles slip in the draft.