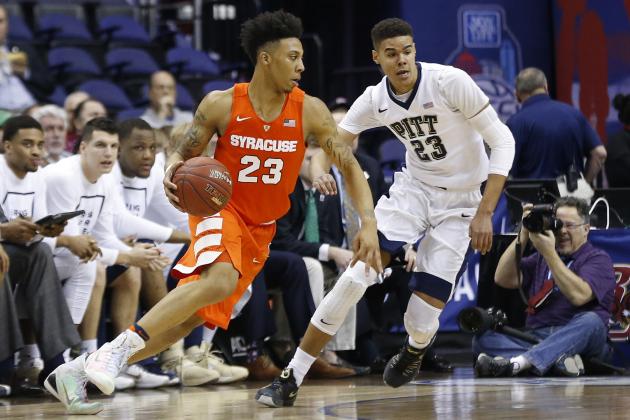 Geoff Burke-USA TODAY Sports
4 Reads 0 Comments
The 2016 ACC tournament took center stage at the Verizon Center in Washington D.C. once again Wednesday for Round 2 play. The reigning NCAA champions from Duke, which earned the No. 5 seed for the event, headlined the action.
It was also an important day for the conference's bubble teams, led by Pittsburgh and Syracuse, as they look to build their final case for the selection committee. Meanwhile, the top four seeds have been waiting in the wings before kicking off their tournament runs Thursday in the quarterfinals.
Let's check out all of the results from Wednesday's games, which will be updated through the end of play, as well as a look at the schedule for the next round. That's followed by an updated look at the bracket and a recap of the action.
Tournament Schedule
2016 ACC Tournament: Round 2 Results and Quarterfinals Schedule Game Round 2 Result/Time (ET) 3 No. 8 Pittsburgh vs. No. 9 Syracuse 72-71 PITT 4 No. 5 Duke vs. No. 12 NC State 2 p.m. 5 No. 7 Clemson vs. No. 10 Georgia Tech 7 p.m. 6 No. 6 Virginia Tech vs. No. 11 Florida State 9 p.m. Game Quarterfinals Result/Time (ET) 7 No. 1 North Carolina vs. No. 8 Pittsburgh 12 p.m. THU 8 No. 4 Notre Dame vs. Game 4 Winner 2 p.m. THU 9 No. 2 Virginia vs. Game 5 Winner 7 p.m. THU 10 No. 3 Miami vs. Game 6 Winner 9 p.m. THU
TheACC.com
Updated Bracket
Round 1
Round 2
Quarterfinals
Semifinals
Final
No. 1 UNC
No. 8 PITT 72
No. 8 PITT No. 9 SYR 71
No. 4 ND TBD No. 5 DUKE TBD TBD
No. 12 NC ST 75
No. 12 NC ST No. 13 WAKE 72 TBD No. 2 VIR TBD No. 7 CLEM TBD No. 10 GT TBD TBD No. 3 MIA No. 6 VT TBD
No. 11 FLA ST 88
No. 11 FLA ST No. 14 BC 66
Pittsburgh 72, Syracuse 71
Pittsburgh survived a late Syracuse surge and took a key step toward earning a spot in the NCAA tournament field with a 72-71 victory over the Orange in Wednesday's opener.
Freshman Cameron Johnson came off the bench to lead the charge for the Panthers with a career-high 24 points. Ryan Luther, another reserve, added 13 points and five rebounds. James Robinson led all starters with 12 points.
Michael Gbinije provided a spark for Syracuse with 24 points, while fellow senior DaJuan Coleman chipped in 11 points and 11 rebounds. The Orange just couldn't come up with the stops they needed at the defensive end in the final minutes, however, and Trevor Cooney missed a final shot for the win.
Jeff Goodman of ESPN.com discussed the aftermath:
Pittsburgh survives. Syracuse likely NIT-bound.
— Jeff Goodman (@GoodmanESPN) March 9, 2016
The game got off to an extremely sluggish start. Not only were both teams struggling to create good looks on the offensive end—the first bucket didn't come until nearly three minutes in—but a string of clock malfunctions forced several stoppages in play.
Dana O'Neil of ESPN.com noted the early issues:
Clock stoppages 6. Syracuse 0, Pitt 0.
— Dana O'Neil (@ESPNDanaOneil) March 9, 2016
While that's not ideal for any game, it's especially an issue during a matchup with so much on the line. As mentioned, both Pitt and Syracuse came into the clash trying to bolster their resumes with a deep run in the conference tournament.
Jerry Palm of CBSSports.com believed it was slightly more important for the Orange, which entered the game "on the fence":
Syracuse needs this more. The Orange are behind the Panthers in the bracket and would be in serious danger of falling off if they lose. Syracuse has a few nice wins, but the losses are piling up. Another one here means being just one game above .500 vs the top 200 of the RPI, and that would not include the loss to St. John's.
So it's a crucial win for Pittsburgh. Not only since it's a victory over a fellow bubble team, but also because of the opportunity it creates. The Panthers now get a chance to face North Carolina, giving them a chance to make a major statement with a quarterfinals triumph.
The Tar Heels are trying to work their way into a No. 1 seed for the NCAA tournament, so there's no shortage of motivation on their side, either. So if Pitt is able to pull off the upset, it should secure a place in the final field, if it hasn't already.
Meanwhile, Syracuse will likely be forced to sweat it out all the way until Selection Sunday. Since the Orange no longer control their own destiny, they'll spend the rest of the week cheering for top seeds in other conferences to lessen the number of bid-stealing conference champions.