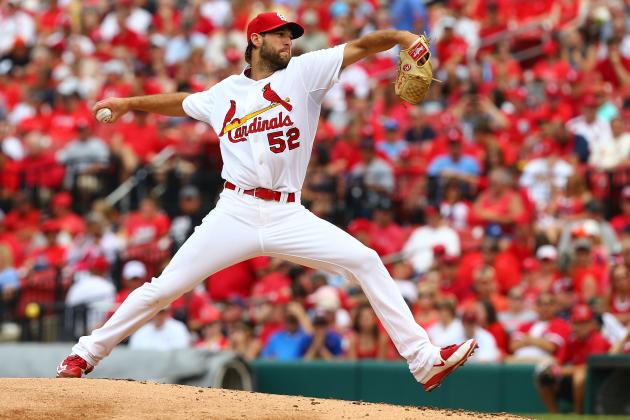 Dilip Vishwanat/Getty Images
14 Reads 0 Comments
As a Father's Day present, give Dad the gift of strong pitching performances for his DraftKings lineup.
Corny introduction aside, pitching is the foundation of a winning daily fantasy baseball entry. Two strong hurlers leading the way makes it much easier to combat the unpredictability of day-to-day offensive production.
After selecting Sunday's pitchers, gamers should have plenty of money to spend on hitting. All things considered, the day's top play provides tremendous value as the fifth-priciest arm available.
Studs
Michael Wacha, St. Louis Cardinals ($9,100) at Philadelphia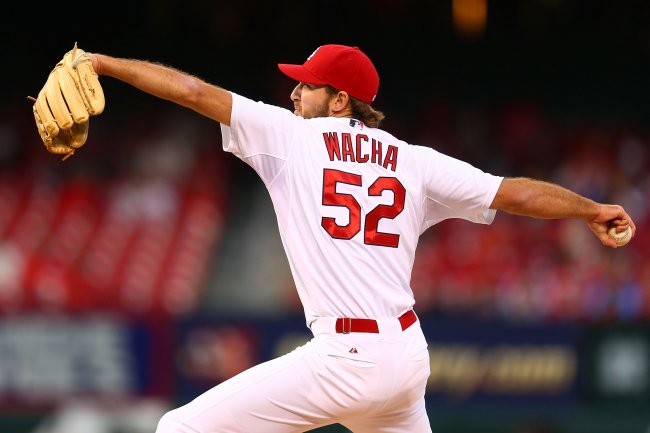 Dilip Vishwanat/Getty Images
This one is obvious, and that's fine in cash contests. The Philadelphia Phillies still rank last in on-base percentage, slugging percentage and weighted runs created plus (wRC+) against righties, and Adam Morgan isn't a good bet to stymie the St. Louis Cardinals during his MLB debut.
Meanwhile, Michael Wacha is regressing in the best way. He has procured a 3.86 ERA through his last four starts, but his sub-2.00 ERA was never going to last. Besides, eight of those runs came against the Los Angeles Dodgers and at Coors Field. More importantly, he has compiled 27 strikeouts during those 25.2 innings, a terrific sign given his early inability to generate whiffs.
The matchup is too tasty to pass up, especially on a day without Clayton Kershaw, Chris Sale or Max Scherzer on the hill. For what it's worth, Wacha has a 1.17 ERA in six day starts this season, and the game is scheduled for 1:35 p.m. ET.
Yovani Gallardo, Texas Rangers ($7,100) at White Sox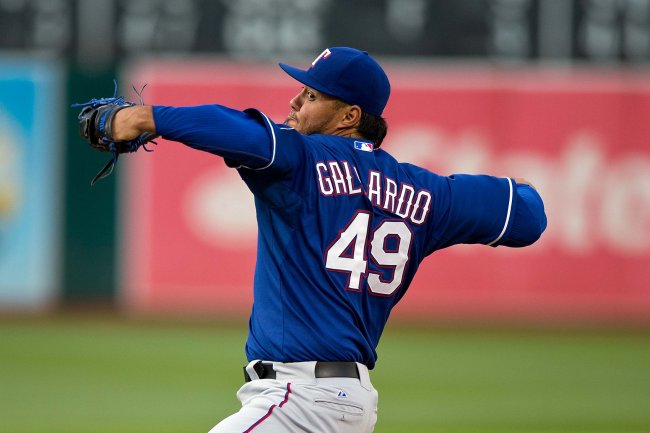 Jason O. Watson/Getty Images
A red-hot Yovani Gallardo gets the ice-cold Chicago White Sox, making the former strikeout artist an ideal No. 2 starter.
He has yielded five runs over his last five starts, dropping his ERA to 3.16. He's not ringing up batters with the same regularity from his heyday, but he has assembled 29 strikeouts over his last 32 innings.
Meanwhile, the White Sox have hit worse than everyone over the last 30 days. They're prime picking for Gallardo to keep his hot streak alive, especially away from Texas.
Gio Gonzalez, Washington Nationals ($7,400) vs. Pittsburgh
Despite his 4.82 ERA and 1.55 WHIP, Gio Gonzalez owns a 3.21 fielding independent pitching (FIP) and a 56.3 ground-ball percentage. No qualified starter has a larger gap between his ERA and FIP:
Highest ERA-FIP Differentials (SP) Rank Player E-F 1 Gio Gonzalez 1.61 2 Carlos Carrasco 1.44 3 Kyle Lohse 1.34 4 Drew Hutchison 1.31 5 Joe Kelly 1.30
FanGraphs.com
After allowing five runs and three walks in 3.1 innings on Monday, everyone else will be off Gonzalez's trail, making him a worthwhile tournament gamble. While he has unraveled far too many times, he has also yielded two runs or fewer in six of his last 11 starts.
The Pittsburgh Pirates have registered baseball's second-highest strikeout percentage against lefties this season while sporting a below-average 92 wRC+. Opponent Charlie Morton is also an intriguing option, but he'll be too trendy a pick for someone with no strikeout upside, especially with Bryce Harper back in the lineup.
Jake Arrieta, Chicago Cubs ($9,600) at Minnesota
Jake Arrieta walked eight batters in his last eight starts combined before coughing up six free passes to the Cleveland Indians on Tuesday. Despite his rough last outing, trust the full body of work on the unheralded ace.
Jake Arrieta: 2015 Stats GS IP ERA WHIP K/9 BB/9 GB % FIP 13 82 3.40 1.16 9.77 2.30 50.0 3.05
FanGraphs.com
The Minnesota Twins have cooled down considerably, scoring 2.9 runs per game in June. Despite roughing up Kyle Hendricks on Friday, they're not overly dangerous against a top-flight starter whose recent struggles shouldn't cause much concern.
Tournament Flier: Vincent Velasquez, Houston Astros ($4,700) at Seattle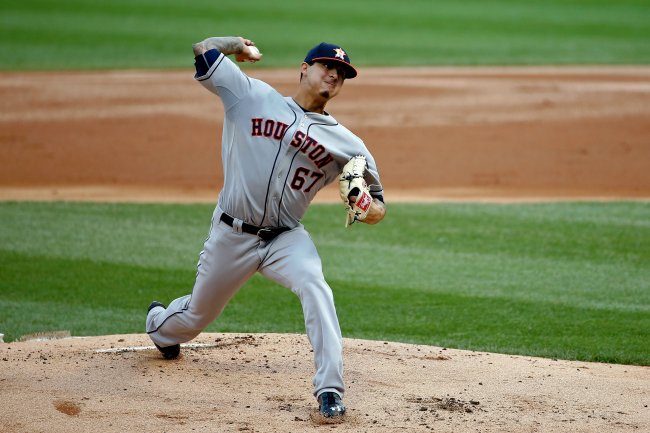 Jon Durr/Getty Images
Two starts into his MLB debut, Vincent Velasquez looks like an unpolished rookie. Not exactly making the jump from Double-A as smoothly as Houston Astros teammate Lance McCullers, the 23-year-old has allowed 10 hits, six walks and five runs through 9.2 innings.
He has also, however, collected a dozen strikeouts with a 10.5 swinging-strike percentage. Before his promotion, Velasquez netted 37 punchouts through 26.1 minor league innings, so his ceiling is high against the strikeout-prone Seattle Mariners.
The neophyte is also unlikely to go deep into the game, making him more of a tournament gamble than trustworthy choice. For a microscopic $4,700, it won't take an earth-shattering performance to exceed value.
Duds
Masahiro Tanaka, New York Yankees ($10,500) and Anibal Sanchez, Detroit Tigers ($8,500)
Masahiro Tanaka and Anibal Sanchez are both rolling. They also pitched well against each other on April 23, each allowing one run through 6.1 innings. However, the Detroit Tigers and New York Yankees each lug prolific offenses into Yankee Stadium.
Perhaps Tanaka is matchup-proof, but it's not worth the risk at $10,500.
Julio Teheran, Atlanta Braves ($7,500) vs. NY Mets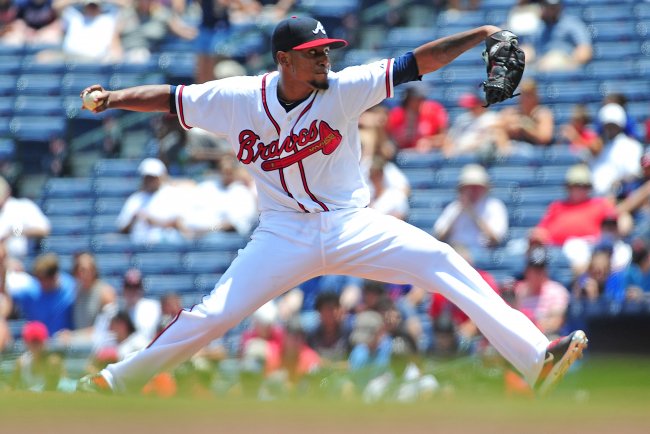 Scott Cunningham/Getty Images
Julio Teheran looks like a sneaky pick against the New York Mets, one of baseball's worst offenses against righties. Don't get cute and play the plummeting 24-year-old.
Teheran has relinquished 24 earned runs over his last five starts, issuing 17 strikeouts and 11 walks in the process. A dreadful 5.05 FIP supports his 5.07 ERA, and he has surrendered nine walks in 10.1 innings against the Mets this season. The Atlanta Braves are also facing that Matt Harvey fellow.
Julio Teheran: 2014 vs. 2015 Stat 2014 2015 ERA 2.89 5.07 WHIP 1.08 1.47 K/9 7.57 7.05 BB/9 2.08 3.31 LD % 21.3 26.3 FIP 3.49 5.05
FanGraphs.com; LD= line drive
Note: Don't take Harvey's exclusion from the studs as a call to fade him. Other names just felt more worthy of highlighting than the day's most expensive ace. He's a fine cash-contest play after bouncing back from a brutal slump to shut down the terrifying Toronto Blue Jays.
Tim Lincecum, SP, San Francisco Giants ($7,200) at LA Dodgers
Tim Lincecum in his prime would be a risky pick against the righty-killing Dodgers. The one with a 4.27 FIP and 1.63 strikeout-to-walk ratio certainly isn't worth the time of day.
Note: Advanced stats courtesy of FanGraphs.
DraftKings is hosting one-day MLB contests! Claim your free entry by clicking on the link and making a first-time deposit!