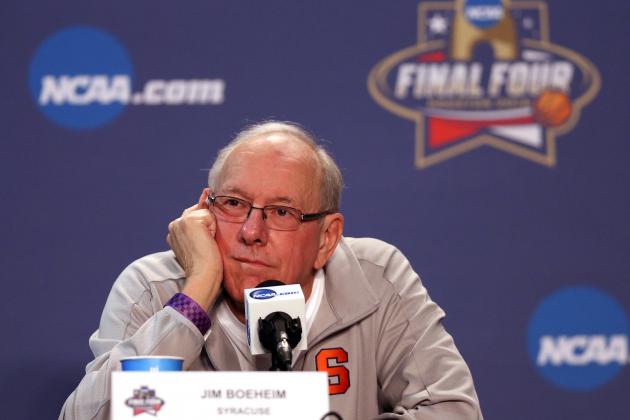 Streeter Lecka/Getty Images
1 Read 0 Comments
Head coach Jim Boeheim's program broke the rules. That much he admits. But when asked if he feels Syracuse cheated to gain a competitive advantage, the veteran coach bristles at the notion.
"But when they say 'cheating,' that's not true. Rules being broken is a lot different," Boeheim said, per Dan Wolken of USA Today. "Cheating to me is intentionally doing something, like you wanted to get this recruit so you arranged a job for him, or you went to see him when you shouldn't. You called him when you shouldn't to gain an edge in recruiting to get a really good player. That's cheating."
Syracuse self-imposed a postseason ban in 2015 amid an NCAA investigation into a decade's worth of violations at the school. The violations included academic misconduct, impermissible benefits and malfeasance in Syracuse's drug-testing policy. The NCAA suspended Boeheim the first nine ACC games of the 2015-16 season for his part.
"Over the course of a decade, Syracuse University did not control and monitor its athletics programs," the NCAA said in a statement, per Kevin Armstrong of the New York Daily News, "and its head men's basketball coach failed to monitor his program."
Boeheim specifically was forced to vacate 108 wins, something that still does not sit well.
"Losing the (victories) is the most irritating thing to me because there's many situations and past cases where similar things, exact same things happen, and games were not taken away," Boeheim said per Wolken. "We presented all that stuff, but you know, nobody listened."
The Orange, despite a rocky regular season, have bounced back to become the first No. 10 seed in NCAA history to make a Final Four. They're slated to play North Carolina on Saturday, when Boeheim will look to make his fourth national championship game at Syracuse.
It's possible the NCAA could eventually relent and restore Boeheim's victories. College sports' governing body put 111 of former Penn State coach Joe Paterno's wins back on the record books last year amid a controversial decision. With Syracuse's violations receiving far less press, it's possible a couple of years could lead to a change of heart in Indianapolis.
As it stands, Boeheim will just have to air his grievances in the court of public opinion.