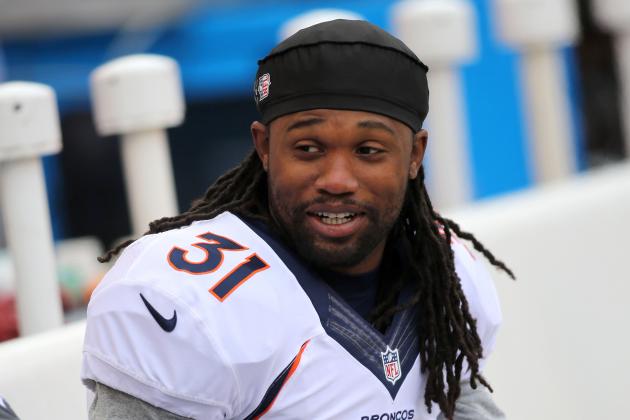 Aaron Josefczyk/Associated Press
1 Read 0 Comments
Unable to carve out a role within the Denver Broncos' magnificent defense, veteran defensive back Omar Bolden is trying his luck elsewhere in free agency.
The Chicago Bears announced they have signed Bolden to a one-year contract on Thursday.
Troy Renck of the Denver Post the deal is worth $760,000. Renck also called Bolden "the ultimate pro" and wished him "nothing but the best."
Bolden joined Denver as a fourth-round pick in the 2012 NFL draft but only made one start in the defensive backfield in four seasons with the team. Once the Broncos brought in Darian Stewart as a free agent last offseason, it was clear Bolden wouldn't compete for a starting job in his contract year.
Multiple foot and leg injuries plagued Bolden this past year, but at least he didn't need offseason surgery. and He told Renck on Thursday, "I got the short end of the stick this year (with injuries)."
Having to resort to special teams coverage as a means of making an impact as a defender, it's logical for Bolden to flee the Mile High City—especially with a Super Bowl ring under his belt.
The Bears didn't have to break the bank to bring Bolden aboard, perhaps thanks in part to his reunion with former Broncos head coach John Fox and a prior Denver teammate in linebacker Danny Trevathan.
Although the sample size on him is small, the 27-year-old learned from some of the best defensive backs in all of football over the past two years, which has to bode well for his future.
Without even a puncher's chance to start in the loaded Broncos secondary, Bolden must be eager to get situated and establish himself in Chicago. He is a bit undersized for a safety at 5'10" and 195 pounds, but that also allows him to be a bit quicker in coverage.
It's difficult to project how Bolden will do since he was buried on the depth chart in Denver. If he were to thrive and emerge as a stellar starter in 2016, though, that shouldn't come too big a surprise given the culture and competition he was groomed in for the reigning Super Bowl champions.
Scout.com's Aaron Leming felt Bolden would at the very least be a big help on special teams:
Very good chance Bolden will be primary punt returner & compete w/ Deonte Thompson for KR reps. Also a strong gunner. #Bears ST improved.
— Aaron Leming (@AaronLemingNFL) March 31, 2016
Bears defensive coordinator Vic Fangio is a crafty tactician and ought to find a way to plug Bolden into the secondary. He could either get into the cornerback rotation or challenge Adrian Amos—a surprise starter as a 2015 fifth-round pick—for the starting free safety job
In addition to the versatility to play free safety and cornerback, Bolden handled kick- and punt-return duties throughout his stint with the Broncos. He ran back a punt for a touchdown during the 2015 campaign, so he could well help Chicago out in that area as well.
Of course, the standard of special-teams excellence set by the legendary Devin Hester would be quite a legacy for Bolden to live up to in the Windy City.